Thanksgiving with New Hunter Douglas Window Treatments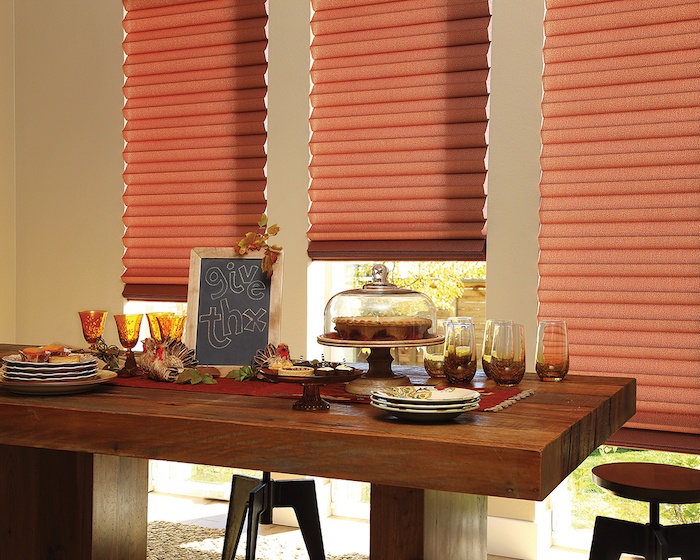 Is your home the gathering space for all of your family's Thanksgiving activities? The expert team at Archetype Interiors wants to help you prepare your home for the holiday with our beautiful selection of Hunter Douglas window treatments. Impress all of your out of town relatives with how elegant and photo-ready your home looks. Come in today and let us help you pick out the perfect accents for your home.
Archetype Interiors has an expert team of interior designers to help you add the finishing touches on any room in your home. Our Hunter Douglas window treatments are a great choice for your home in both style and function. Whether you prefer the clean lines and modern simplicity of blinds, or the soft elegance of sheers and shadings, we have the perfect window treatments for you and your home. We also offer color consulting, not only to help tie your whole room together, but also to ensure that you and your guests will be comfortable in your home.
If you plan to be spending a lot of time in your kitchen, like most Americans do around the Thanksgiving holiday, our Hunter Douglas roller shades are a great option for you. They let in natural light so your home's energy usage can be focused on preparing a delicious meal, while also reducing the glare from all those shiny kitchen appliances. Our roller shades come in a multitude of fabrics, patterns, and colors to match any design scheme, and they can be customized to fit any window in your home. Your family members will not only envy your supreme culinary skills, but also your gorgeous, energy-efficient kitchen.
In living rooms and bedrooms where you want to let natural light in but also be able to diffuse it, we recommend the Silhouette ® shadings. These shadings offer sheer or semi-sheer fabrics looped over vanes that you can tilt to let in your desired amount of light. They also diffuse the light which helps keep your carpet and furniture from fading due to sun exposure. At Archetype Interiors, we have the software know-how to help you decide on the colors and fabrics that will fit best in your home, and we can size these shadings to fit any of your windows. The Silhouette ® shadings help add to the soft, comfortable feel of bedrooms and will make even your hard to please guests feel right at home.
At Archetype Interiors, we have all the tools and inspiration you need to impress all of your family members visiting for the holiday. We can help you add the finishing touches to any room and create the perfect backdrop for any family photos. Our three offices are conveniently located in Stamford, New Canaan, and Yorktown Heights, and we have the software capabilities to let you test out different design elements in your spaces before you buy them. We are proud to serve New Canaan, Stamford, Yorktown Heights, and the surrounding areas. Make an appointment today to get your home ready for Thanksgiving.