How to Save Money With Cellular Shades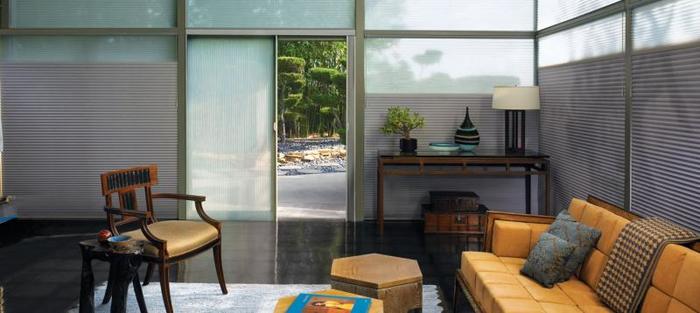 Are you looking for energy-efficient shades that are also stylish? Archetype Interiors has the answer with our Hunter Douglas cellular shades! Whether you are looking to save money, be more environmentally-conscious, or a little of both, cellular shades are a great option for you and your home. Our expert team can help walk you through all your options to ensure you can be confident when picking out cellular shades for your own home. Schedule an appointment today and let us help you pick the right shades.
Cellular shades can save your family money in several ways and look great while doing it. Our shades are offered in a variety of fabrics ranging from sheer to opaque so you can decide how much light gets let into a room. By diffusing the light that enters your home naturally through your windows, cellular shades allow you to use less artificial light in your home, consequently lowering your electricity bill. Our Duette ® Architella ® line of honeycomb shades features Illumicell™, a clear inner cell which diffuses natural light giving you both enhanced illumination and more energy efficiency. They are also offered in a variety of colors and patterns, so you can match an existing design scheme or start new one. Your wallet and the environment will thank you!
Up to 50% of your home's heating and cooling energy can be lost through its windows, but with cellular shades, that will no longer be a problem for you. The honeycomb shape of our cellular shades traps air, keeping it inside the home. This trapping of air help keeps your home cool in the summer and warm in the winter, allowing you to use less energy for heating and cooling. Our Applause ® line of cellular shades features a double-honeycomb construction which traps air better than the single-honeycomb. The Applause ® shades are also offered with Vertiglide™, which means you can now get honeycomb shades for your sliding glass doors as well. They are also offered in several different colors, and can be custom-sized to fit any window in your home. Visit Archetype Interiors today to help make your home more energy-efficient.
Archetype Interiors offers many services to help make your dream home a reality, including color consultation and overall interior design. Our expert team can help you create the look you want in your home, while still keeping it energy-efficient to save you and your family money. We have three showrooms which are conveniently located in the cities of Stamford, CT, New Canaan, CT, and Yorktown Heights, NY and we are proud to serve the surrounding areas which include Darien and New Canaan. This convenience allows you to come check out our wide selection of Hunter Douglas window treatments, and test a few out before you buy them to ensure you are getting the proper window treatments for your home. We can also help you make the right style decisions with your window treatments, to make sure they complement your design scheme. Call us today to begin your journey towards a more energy-efficient home!